After finishing the category entitled "The Wives Between Us", I thought to entertain myself by adding a dash of the male perspective and came up with my next category--Mr. and Mrs. I started with the cleverly transitional title "Mr. Emerson's Wife". It was an ambitious reading list that started April 2019 and finally finished in August 2019. I probably would have finished earlier but I had three late additions and plumped up the total read to sixteen books. Not bad!
SO PLEASE ALLOW ME TO INTRODUCE MR. AND MRS. ...
 Mr. Emerson's Wife: A Novel
 by Amy Belding Brown completed 4/8/2019 
A fictionalized biography of Lidian Jackson Emerson-the wife of Ralph Waldo Emerson. I admit I chose this book more for the charm of its cleverly transitional title than I did for the subject matter. But I also thought it would interesting to read about the wife of such an iconic American writer. It left me a little dismayed. I had to fact check. I firmly believe that her actual life would have been more than interesting enough and I was very disappointed that the author chose to "spice" things up with a made-up marital affair with Henry David Thoreau. Yes, they were friends and yes, Mr. Emerson was an a-hole but there is no evidence that their friendship was anything more. I felt a little cheated and felt as if I wanted to know the truth about Mr. Emerson's wife then I would have to do further reading and my #TBR list is already long enough thank you very much, but factual biographies and her actual correspondence does exist.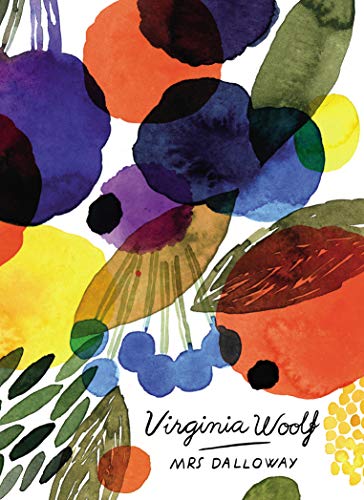 Mrs Dalloway 
by Virginia Woolf completed 4/2019
A classic book and Ms. Woolf's most well known work. The book details a day in the life of Clarissa Dalloway as she prepares to serve as hostess at a party in London after the first World War. This novel will also find itself in another category as one of my projects is to add a few classical titles to my reading repertoire- I am starting with the "W's"as authors such Woolf, Waugh, and Wharton have always intrigued my reading self. 
I picked up a used copy that was quite marked up. I was intrigued because this reader seemed to be pulling occult references out of Woolf's writing but alas she/he quickly lost steam and apparently interest in the book. Mrs. Woolf's novel actually turns out to be less about the party preparations than it is a "stream of thought" perspective from different POV of various characters as the narrative shifts from Clarissa to the minds of others both known and unknown to Mrs. Dalloway. The novel looks into the stream of consciousness of various men and women across many classes at a particularly challenging moment in British society as the nation struggled to recover from the first World War. 
To me, Clarissa remains as much of a mystery at the end as she did at the beginning as this narrative is mostly told through the thoughts of others both in regard to their own thoughts about Clarissa (if they know her) and in regard to their own thoughts about their lives as they move about London on this particular day. It was all neatly connected through the interactions of characters--at times like a "six degrees of separation" type of experience.
While I don't read a lot of "literature"--all this deeper meaning and allegory--made for some stuffy pretentious college seminars and maybe to "classical literature" fans this is what makes for an important must read book but frankly for me this constant search for meaning kills my reading joy--sometimes an author just likes to spin a good story along a theme she finds intriguing. I primarily read either to deepen my base of knowledge or for the pure pleasure of escape. The reading that I do for my profession often leads me to need a bit of palate cleansing so to speak.
I also frown upon reading a book simply because it is a "must read classic"--life is too short to waste reading a book simply because you think you should (or worse yet, other people judge you as lacking, sorry to disappoint but a lot of classics haven't even made it to a paper list of my #TBR). 
Back to Mrs. Dalloway, I would have been more pleased if the book had stuck with Clarissa and her party--but that is not the story that Mrs. Woolf had in mind. But overall I did enjoy it as it was a very interesting look into the different types of lives lived by Londoners on that day. I find myself becoming fascinated by reading the various means by which single women manage to live on the fringes of various societies.
This book has also added on to my #TBR pile as I very much want to read Woolf's A Room of Ones' Own and The Hours by Michael Cunningham, a work that won the Pulitzer Prize and features at least in part the reimagining of Mrs. Dalloway and if it is as promised reinvents and honors the work of Virginia Woolf. So yes I envision a Time themed category in my future.
 "Surely You're Joking, Mr. Feynman!": Adventures of a Curious Character
 by Richard P. Feynman and Ralph Leighton completed 5/7/2019
A collection of stories and anecdotes about the Nobel Prize winning scientist, one of the minds behind the Manhattan Project--an eccentric, highly intelligent man with unlimited curiosity and a taste for outrageous adventures. I will admit it took me awhile to get through this book--especially the ones where he talks physics and math. If I work at it I can semi understand but numbers are not my strong suit. Interestingly enough, Mr. Feynman came to regret winning the Noble Prize, he did not enjoy the level of fame, and would rather be asked to speak about current ideas than speak about past projects.
The book starts out with an introduction from Bill Gates in which he admitted that learning is one of his favorite ways to relax. I can relate I am never more content than when I am researching and learning more about a particular topic. I will however admit to a level of frustration with technology, math and physics. But that little bit of glow when I do figure it all out well that makes it worth almost all the frustration.
It is amazing how many of the titles I selected for this category settled themselves around wartimes. Genius I suppose is hard for more mediocre minds to understand and I found it hard at times to relate to the mind of this brilliant scientist who who wrote mostly about his adventures during WWII and afterwards. I did however find a lot that intrigued me towards deeper thinking so I am grateful for this at the very least. He challenged my brain in entertaining ways.
 My Mrs. Brown: A Novel
 by William Norwich completed 5/4/2019
This book is written by a well-known fashion writer and editor, and is a novel about a woman with a secret who travels to New York City on a determined quest to buy a special dress that represents everything she wants to say about that secret…and herself. I think that this novel was my favorite Mrs. title out of the whole category. It is simply written with spare prose and I was immediately drawn into the characters lives. The story revolves around the unrevealed reason that Mrs. Brown feels she must have this dress and I have no intention of spoiling the ending of this book. I believe this book is a testament to the power of quiet strength and determination how it sometimes causes "a pull" that allows for meeting the right people at the right time and being in the right place just when you need to be. When I get this book back from my mother I will be putting it on my "My Shelf": the ones I keep.
  The Suspicions of Mr. Whicher: A Shocking Murder and the Undoing of a Great Victorian Detective
 Kate Summerscale comp. 5/21/2019
The dramatic story of a real life murder--nonfiction that reads like a Victorian thriller. (Its not quite that intense.) This is the murder that inspired the birth of modern detective fiction. (Which is a favorite genre of mine.) The Detective Inspector Jonathan Whicher was one of Scotland Yard's earliest and finest detectives. He investigated, often puzzling out the mysteries behind brutal crimes and his prowess eventually went on to inspire the fictional detective creations of such renowned authors as Charles Dickens and Wilkie Collins. 
However, this mysterious case proved all but uncrackable and almost was the ruin of Whicher's career. It took awhile to get through this book and it did drag a little bit but in the end worthwhile time spent reading and a fascinating peak into the Victorian era. As is also true of the next book, the author included a brief synopsis of the "rest of their lives" for the majority of the main characters in this book, which was one of my favorite parts. Interestingly enough, I both find myself completely unable to remember if this case was ever solved and am equally uninterested in going back and rereading. 
  Mrs. Sherlock Holmes: The True Story of New York City's Greatest Female Detective and the 1917 Missing Girl Case That Captivated a Nation
 by Brad Ricca completed 6/9/2019
The true story of Mrs. Grace Humiston, the detective and lawyer who turned her back on New York society life to become one of the nation's greatest crime fighters during an era when women weren't even allowed to vote. This is the first-ever literary biography of the singular woman the press nicknamed after fiction's greatest detective. 
I found this to be a most interesting read even if it took me awhile to plow through. I primarily picked up this title to give Mr. Whicher his female equivalent. I ended up being amazed at her strength and the lengths she went to find justice for her clients. My favorite part of this book was at the end where Mr. Ricca provides short biographies of how all the major players spent the rest of their years. Something that Ms. Summerscale did as well--also one of my favorite parts of her book.
The backstory of this work is white slavery and the sheer number of people who go missing in every year. The truth of the matter is that this is a topic that still to this day gets swept under the rug. At the time of his writing 2014 the numbers he reports are astonishing: 466,949 missing children, 1.1 million reports of sexual exploitation of children and young adults, 100,000 to 300,000 children at risk for entering the U.S. commercial sex trade, 600,00-800,000 people are trafficked across international borders every year of which 80% are female and half are children. I applaud Brad Ricca for his efforts in to shining a light on this horrible reality.
  Mr. Maybe
 by Jane Green completed 6/20/2019 
This title was a blast from my past reading life, typical of my tastes back in the day. Plus given all the above "heavier" reads I felt it was way past time for a lighter read: romance and a happy ending. I often think of this type of book as a palate cleanser. When I first read this book in the late 1990's I imagine I very much identified with the stream of consciousness delivery of the 27 year old main character back then. Now as I am reading it again -I find myself inwardly cringing at my self-adsorbed, fashion and relationship driven past self. Even more horrifying now that my own son is 30 I find myself commiserating with and feeling for the main character's mother--for whom the "heroine" of this tale gives nothing but ridicule and distain.
  Mrs. Roosevelt's Confidante: A Maggie Hope Mystery
 by Susan Elia MacNeal completed 6/2019 
This is the 5th book in this mystery series, it features Maggie Hope, a British special agent, who travels to America with Winston Churchill in 1941, just after the bombing of Pearl Harbor. She infiltrates Mrs. Roosevelt's inner circle when one of Eleanor's aides is mysteriously murdered.
I usually don't like to start books deep into a series but this one tied neatly in with this category so I couldn't resist. The author doesn't rehash a lot of the back stories, instead she supplies just enough detail to get a feel for how her main characters have developed over the arc of the series. If I had an infinite amount of time for reading then I am sure I would go back and start at the beginning. We will see.
The story was good and the author worked hard to give a real taste to the flavor of living in America on the cusp of the United States joining the Allied Forces after the bombing of Pearl Harbor. She touches not just on American-British relations but personal relationships, racial tensions, and the effect of Hollywood propaganda as a social media influencer.
There was also a separate storyline back in England that involved captured Nazi prisoners (this storyline must have made more sense to readers of the entire series--but not too much to me--but I believe the female captive was Maggie's mother) that seemed to be a continuation of a storyline that had started earlier in the series. Ditto for a personal relationship that Maggie shared with one of her co-workers. I was left a little confused but not as much as I feared I might when I decided to dip in mid series.
 Mr. Mercedes: A Novel (The Bill Hodges Trilogy)
 by Stephen King Completed 7/2019
It has been a long while since I read a book by Stephen King. I have read almost all of his early books--I burnt out on his writing after awhile--I think he did as well. I have only dabbled as of late reading Under the Dome (I liked the book but the TV series was awful) I really enjoyed 11/22/63 that revolved around time travel and the Kennedy assassination, my favorite however was "On Writing" a memoir about his life as a writer. 
Stephen King usually the master of horror here writes a straight up race against the clock mystery thriller. It is the first book in a trilogy involving the main character Bill Hodges, an ex-cop. It is well written and I really wanted to like this book more than I did. I guess my reading tastes and preferences have truly moved on--I find it highly unlikely that I will read the rest of the trilogy. What I most love about SK is his ability to build strong characters in a few short paragraphs--even if he kills them off in the paragraph after that. 
 A Star for Mrs. Blake: A novel
 by April Smith completed 7/8/2019
In 1929 the United States Congress passed legislation to fund travel for mothers of fallen soldiers of WWI to visit their son's graves in France. The press for this book promises expert storytelling, memorable characters, and beautiful prose. The novel features a group of grieving mothers as they travel to France--a timeless story set against a little known footnote of history.

This book lived up to the press. It was one of my favorite reads in this category. If I have to have a complaint it is that the author tried to cobble together too many themes and storylines in her effort to give a complete picture of what life was like both in America and France at this moment in time but it is hard to take to task a book that is so well written for a little quibble like that.
   THE COMPLETE NOVELS. After Leaving Mr Mackenzie.  by Jean Rhys completed 7/2019
A late addition for the this category--I couldn't resist dipping in. The other day at #HalfPricedBooks I picked up a copy of the complete novels of #JeanRhys for $8. Quite a bargain it turns out-- I just noticed this title going for $48 on Amazon. I spent most of my weekend in front of a fan with my nose in this book escaping the heat. I always love finding a popular author whose work is new to me. So far, I have only read After Leaving Mr. Mackenzie as it neatly fit into this category. It is a dark and quite stark read from an author who is proclaimed as one of the truest voices of the 20th century. 
As I read-- I found it very easy to start harshly judging this woman who is struggling to make ends meet as she aimlessly moves along the fringe of society and her family. A different time and way of life--she mostly survives on the charitable donations of her lovers, past and present. Then I would catch myself with the realization that in reality that I am not as financially independent of men as I would like to believe. I have a roof over my head and health insurance because my estranged husband (our heroine's husband has wandered off as well) pays my taxes and foots the expense for what passes as healthcare in America today. I am very grateful--if anything reading Jean Rhys has made me starkly aware of how much luck and circumstance play a part in a persons' life.
 Mrs Palfrey At The Claremont: A Virago Modern Classic
 by Elizabeth Taylor completed 7/2019
Another late addition to this category and another book I couldn't resist digging into. I never heard of Elizabeth Taylor, the author, until I joined Twitter @DebbieVignovic and found @JacquiWine - she has proved a treasure trove of #TBR. A recent heatwave has caused a spike in my reading. Rest assured I will be reading the rest of Elizabeth Taylor's novels.
This story is set in 1960's London and revolves around the unexpected friendship that develops between the recently widowed Laura Palfrey and a young struggling writer Ludo Myers. After the death of her husband Mrs. Palfrey makes the decision to move from Scotland to London to be near her 26 year old grandson. She takes up residence in the Claremont Hotel and is quickly surrounded by a group of other elderly residents. Mrs. Palfrey is out walking one evening when she accidentally falls in front of Ludo's basement apartment and he rushes to her rescue.
Mrs. Palfrey's actual grandson turns out to be a bit of a flake and in spite of his promises never shows up for a visit with his grandmother. In order to save face in front of her fellow elderly residents she calls upon Ludo and implores him to come to dinner and impersonate her grandson to which he agrees. The story while it does have its elements of comedy and wit--it is mostly a novel about the particular loneliness of old age--the feeling of being a burden upon others. It is about the casting to the side of the elderly and how fragile life can be.
 The Wonderful Mr Willughby: The First True Ornithologist
 by Tim Birkhead completed 7/2019
If you haven't figured it out by now--I will pretty much read anything. This is the biography of Francis Willughby, the man who pulled the study of birds out of the dark ages and formed the foundation of modern ornithology. He lived in 17th century England--a thrilling period of scientific history. This was a dense information packed read and it took me a while to get to the end. Even so this was still my favorite Mr. out of the group--I was totally surprised to come to this conclusion but over the years I have truly come to love reading history. I especially enjoyed the style and tone in which the author told the tale, he took what could have easily been dry dusty history and turned it into a very readable look at a fascinating corner of history.
  Dear Mrs. Bird: A Novel
 by AJ Pearce completed 7/2019
This novel is set in London during WWII and features a young woman who dreams of becoming a war correspondent but inadvertently becomes a secret advice columnist instead. A look into women's lives in wartime Britain. Once I got used to the writing style employed by the author (she likes capitalization and exclamation points) I really enjoyed this book. It helps one imagine what courage it took every day to remain and live in London during the Blitz. It took the development of very stiff upper lips.
  Mr. Murder: A Thriller
 by Dean Koontz completed 8/2019
A big house. A beautiful wife. Two happy and healthy children. It's a nice life that writer Martin Stillwater has made for himself. But he can't shake this feeling of impending disaster. One bad moment on an otherwise fine day has put Marty on a collision course with a killer—a man with a mere shadow of an identity who is desperately searching for something more...Martin's home. Martin's family. Martin's life.
It had been a long time since I had read a book by Dean Koontz but since I had already dipped back into Stephen King I figured why not. This book was not horror of the occult/mystical sort but more the sort of horror of medical technology gone astray in a violent way--a very violent way. It takes a stab at the private organizations that seem to run the government--this book was published in 1993 and it is a sad reflection that special interest now totally runs the show in 2019 Washington DC and America has even elected special interest as its President.
  The Last Mrs. Parrish: A Novel
  by Liv Constantine completed 8/2019
 This novel follows Amber Patterson an entitled twenty something girl who believes she deserves so much more in fact she believes that she is perfectly entitled to a life of power, wealth and recognition. As a means to gain entry Amber selects as her target Daphne Parrish the socialite and philanthropist who is married to Jackson Parrish, a real estate mogul and then hatched a meticulous plan to totally insert herself into their world.
It was a well laid plan and while Amber does succeed all is certainly not what it seems--this book hinges on a plot twist that I will not reveal here. I will admit to the fact that I saw most of it coming which always disappoints me somehow. It did however keep me turning pages. 
I read an impressive 16 books for this category and I would like sum up by sharing some of the unintentional commonalities of my choices. I enjoyed the Mrs. titles way more than the Mr.'s but I do consider this a category well read.
Six of my choices featured war as a backdrop. Both Mrs. Dalloway and A Star for Mrs. Blake examined life immediately following WWI albeit from completely different perspectives and the authors Richard Feynman IRL, Susan MacNeal, and AJ Pearce all took very different looks at WWII. There is an element of more recent American wars in My Mrs. Brown.
Four real life histories and at least six books took past history as a back drop for their stories. Several were written and set in past decades such as 60's era London and 90's era United States. Three books were blasts from my reading past with mixed results, some books became favorites but some genres are perhaps left back in the past.
The books featured a range of characters who ran at the upper stratosphere of their selected societies all the way to a fairly large group of characters who definitely spent their lives skirting on the fringes. 
War, death, murder, injury, poison, kidnapping, evil intent---all told violence in its many insidious forms was a near constant character in the vast majority of these reads. Indeed it is very hard to escape--it pervades society.